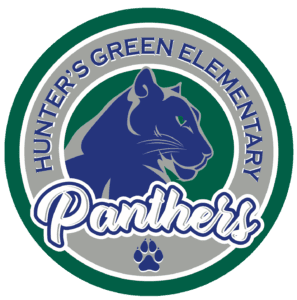 Panther Connection
Hunter's Green Elementary Newsletter
Volume 27, Issue 9
Important Dates:
12/18 – Holiday Music Concert and Art Show Sip and Stroll
12/21 – Pep Rally (wear your team shirt)
12/21 – End of 2nd Grading Period
12/24-1/4 – Winter Break
1/7 – Non-Student Day
1/8 – Students return to school
1/9 – PTA General Assembly Meeting – 9:00am Rm 121
1/16 – 5th Grade Benito field trip
1/24 – Kindergarten Roundup
1/25 – Dad's Club Meeting
1/25 – Prowl-A-Thon
2/9 – Hunter's Green 5K Music Fest
Click here for access to our new Google Calendar!  Sync up the important dates for your child and school.
Dear Families,
What a wonderful time of the year!  I'd like to thank everyone for all you've done for our students at Hunter's Green Elementary.  The holiday season is a time for giving, and you have gone above and beyond with this.  We have collected over 250 toys for Toys for Tots this year. Thanks so much for your generosity.
I'd like to invite everyone to our Sip and Stroll Art exhibit on Tuesday, December 18, from 5:30 – 6:15 pm.  Enjoy warm, tasty beverages while you stroll through a gallery of high quality art displays.  Afterwards, enjoy the Jingle Bell Jukebox concert at 6:30 featuring our ensembles. Our artists and musicians are unbelievable. There is no charge for admittance, however, we are accepting donations for the music program so we can purchase some new musical equipment.
Congratulations to all our students that participated in our school wide STEM Fair this week.  The projects were amazing and I am so proud of all the hard work that went into them.  Our winners will be moving on to compete in the district competition in February.
Students in grades 3, 4, and 5 are working hard on their Math Fact Fluency Challenge.  In order for students to become more efficient problem solvers, they must know their multiplication and division facts.  After students eat breakfast in the cafeteria, several laptop computers will be set up for them to complete an online fact mastery challenge. They will work their way through math facts 0 – 12, and can take one test a day.  This will be on a first come, first serve basis for computer access. Students must earn 100% to move on to the next number challenge.  They will be given special panther cash for each fact set mastered.  Computer access will be stopped at 7:30, so students can get to class on time.  Please help us encourage the students to participate in this and to learn their facts.
Thank you so much for all you do for our students. If there is anything I can do to be of assistance, please let me know.
Mrs. Holt
Mrs. Holt
Principal, Hunter's Green Elementary
Panther Connection Volume 27, Issue 8
Panther Connection Volume 27, Issue 10