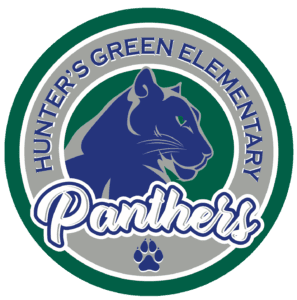 Panther Connection
Hunter's Green Elementary Newsletter
Volume 27, Issue 10
Important Dates:
1/21 – No School
1/22 – Report Cards
1/24 – Kindergarten Roundup – 8:30
1/24 – SAC Meeting 2:30pm
1/24 – Burger 21 Spirit Night 5-7pm
1/25 – Panther Prowl Walk A Thon
1/28 – PAWS Assembly
2/6 – FSA/STEM Night
2/8 – No School
2/9 – Hunter's Green 5K and Music Fest
2/13 – PTA Meeting 9:15am (General Assembly)
2/18 – No School
2/21 – SAC Meeting 2:30pm
2/22 – Ruby Bridges Play
Click here for access to our new Google Calendar!  Sync up the important dates for your child and school.
Dear Families,
Happy New Years!  I hope everyone had a wonderful holiday.  I can't believe that half of the year is already completed.  We are kicking it into high gear for the rest of the year.
I want to remind you that our Panther Prowl Walk-A-Thon is our school fundraiser for the year.  We hope to raise over $20,000 to use to purchase technology for our school.  Our goal is to buy enough laptop computers for each student in the school.  The Walk-A-Thon will be held on Friday, January 25.  Pre-K, kindergarten, and fourth graders will walk from 8:30 – 9:30. ESE, first, and third grade students will participate from 9:30 – 10:30.  Second and fifth graders will walk from 10:30 – 11:30.  We are looking for volunteers to help out this day. Please sign up on https://www.signupgenius.com/go/10C0D45A9AA2CA1FD0-walkathon.  
Prizes will be awarded for the top money collectors.  Thank you so much for your support.
Students in grades 3, 4, and 5 are working hard on their Math Fact Fluency Challenge.  In order for students to become more efficient problem solvers, they must know their multiplication and division facts.  After students eat breakfast in the cafeteria, several laptop computers have been set up for them to complete an online fact mastery challenge.  They will work their way through math facts 0 – 12, and can take one test a day.  This will be on a first come, first serve basis for computer access. Students must earn 100% to move on to the next number challenge.  They will be given special panther cash for each fact set mastered.  Computer access will be stopped at 7:30, so students can get to class on time.  Please help us encourage the students to participate in this and to learn their facts.
Thank you so much for all you do for our students. If there is anything I can do to be of assistance, please let me know.
Mrs. Holt
Principal, Hunter's Green Elementary
Panther Connection Volume 27, Issue 9
Panther Connection Volume 27, Issue 11