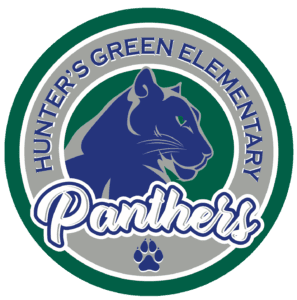 Panther Connection
Hunter's Green Elementary Newsletter
Volume 27, Issue 11
Important Dates:
2/6 – FSA/STEM Night
2/8 – No School
2/9 – Hunter's Green 5K and Music Fest
2/13 – PTA Meeting 9:15am (General Assembly)
2/18 – No School
2/21 – Box Top deadline
2/22 – Dad's Club Meeting
2/22 – Ruby Bridges Play
3/4 – No School
3/13 – Individual School Pictures (no uniforms)
3/13 – PTA Meeting – 9:15am
3/15 – End of 3rd Grading Period
3/15 – Field Day
3/18-3/22 – Spring Break
3/25 – No School
3/28 – Club and Class Pictures
Click here for access to our new Google Calendar!  Sync up the important dates for your child and school.
Dear Families,
I want to thank everyone for all of your help in making the Panther Prowl Walk-a-thon so successful. Last Friday, the students completed laps for the walk-a-thon. We had such a wonderful time, and we appreciate all of the parents that came to volunteer, walk with their child, and cheer everyone on. As of right now, we have reached over $20,000. We will be collecting money until February 7. Let's see if we can surpass our goal. The proceeds made from this fundraiser will directly impact the school's technology and other important programs. Thanks so much for your support.
Our FSA Night will be held on February 7, from 5:00 – 6:00. This presentation is for parents that have students in grades 3, 4, and 5 that will be taking the FSA in the spring. Come learn how to help your child prepare for the test and to see some sample items. Door prizes will be awarded.
I also want to thank Tampa Bay STEM Network and Moffitt Cancer Center for sponsoring our STEM family night which will also be held on Wednesday, February 6, from 6:00 – 7:30. This is a wonderful event where students participate in hands-on STEM activities.
I just want to remind everyone of the importance of getting to school on time. Showing up on time to school each day benefits students' academic performance and future professional habits. School begins at 7:40, and we want to make sure your child gets full advantage of the learning time in school.
Thanks so much for all you do for our students!
Sincerely,
Gaye Holt, Principal
Panther Connection Volume 27, Issue 10
Panther Connection Volume 27 Issue 12