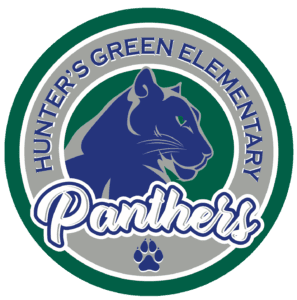 Panther Connection
Hunter's Green Elementary Newsletter
Volume 27, Issue 12
Important Dates:
2/18 – No School
2/21 – Box Top deadline
2/21 – SAC Meeting – 2:30pm
2/22 – Dad's Club Meeting (6:45am – Media Center)
2/22 – Ruby Bridges Play (8:00am and 9:00am)
3/4 – No School
3/5 – District SLAM Showcase
3/13 – Individual School Pictures (no uniforms)
3/13 – PTA Meeting – 9:15am
3/15 – End of 3rd Grading Period
3/15 – Field Day
3/15 – Pep Rally
3/18-3/22 – Spring Break
3/25 – No School
3/28 – Club and Class Pictures
4/9 – Report Cards
4/18 – Conference Night
Click here for access to our new Google Calendar!  Sync up the important dates for your child and school.
Dear Families,
We have such a wonderful school!  I'd like to thank everyone for your support with the Panther Prowl Walk-A-Thon.  We raised over $30,000.  That is unbelievable.  This money will be used to buy computers.  Today, we had our pajama party day, and during the Pep Rally we announced the winners of the prizes from the Panther Prowl Walk-A-Thon.  At our March Pep Rally, which will be held on March 15, students will be able to slime and ice me.  For reaching $25,000, students won no uniforms the last week of school.  Congratulations to all!
I'd also like to thank PTA and everyone that participated in the 5K Run and MusicFest last Saturday!  It was also a huge success.
Our students are very busy learning and preparing for spring testing. I'd like to remind everyone that students should be doing i-Ready at home at least 45 minutes a week per subject. We are continuing to promote the Math Fact fluency challenge for those students in grades 3, 4, and 5.  Please encourage your children to learn their multiplication and division math facts.
Please Save the Date for Friday, May 17, from 5:00 – 8:00 for our Spring Showcase.  This is a special time where our students get to "show off" and we highlight all the wonderful things that are happening at our school.
Thanks so much for all you do for our students!
Sincerely,
Gaye Holt, Principal
Panther Connection Volume 27, Issue 11
Panther Connection Volume 27 Issue 13