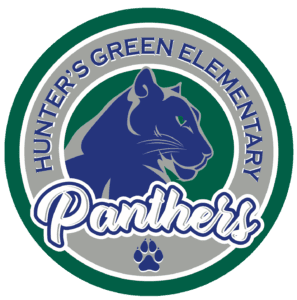 Panther Connection
Hunter's Green Elementary Newsletter
Volume 27, Issue 13
Important Dates:
3/4 – No School
3/5 – District SLAM Showcase
3/13 – Individual School Pictures (no uniforms)
3/13 – PTA Meeting – 9:15am
3/15 – End of 3rd Grading Period
3/15 – Field Day
3/15 – Pep Rally
3/18-3/22 – Spring Break
3/25 – No School
3/28 – Club and Class Pictures
4/9 – Report Cards
4/18 – Conference Night
Click here for access to our new Google Calendar!  Sync up the important dates for your child and school.
Dear Families,
Every time I write the newsletter, I am so amazed at how quickly the year is going. I'd like to thank the entire neighborhood communities for all their support. The volunteer hours, the tutoring, the financial support from the Home Owners Association, Hunter's Green Country Club, and many community businesses are greatly appreciated.
With the testing season quickly approaching, I know many of you have questions regarding the Florida Standards Assessment and how you can help at home. There are many resources available for you on the Florida Department of Education website. (http://www.fsassessments.org/students-and-families/) On this website, you can find FSA practice tests and FAQs that will assist you. Please contact the school if you have further questions.
Spring break will be held March 18 – 25. The school will be closed. The students return on March 26. We hope you have a wonderful week off.
I'd like to take this opportunity to have you invite any new families with school age children to our Spring Showcase on Friday, May 17, from 5:00 – 8:00 PM at Hunter's Green Elementary. This program will highlight all of the special things we have going on at Hunter's Green Elementary. There will be club presentations, tours by student council members, tables showcasing each grade level, and Kinder chorus, chorus, and specialty music group performances. This evening we will also host another Kindergarten Round-Up at 5:00, for those families that have children that will begin Kindergarten in the fall. It will be a fun night for all.
If there is anything we can do to help make your child successful, please let us know.
Sincerely,
Gaye Holt, Principal
Panther Connection Volume 27 Issue 12
Panther Connection Volume 27 Issue 14