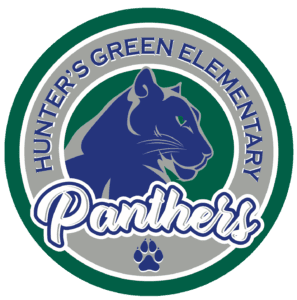 Panther Connection
Hunter's Green Elementary Newsletter
Volume 27, Issue 14
Important Dates:
3/18-3/22 – Spring Break
3/25 – No School
3/28 – Club and Class Pictures
3/29 – Dad's Club Meeting
3/28 – SAC Meeting
4/1 – PAWS Awards Ceremony
4/8 – No School
4/9 – Report Cards
4/10 – PTA Meeting
4/12 – Pep Rally
4/12-4/18 – Book Fair
4/18 – Conference Night
4/19 – No School
4/24 – 5/1 – Kids Rule the School Raffle Sales
4/25 – Student Talent Show
4/26 – Safety Patrol Picnic
4/29 – PAWS Awards Ceremony
Click here for access to our new Google Calendar!  Sync up the important dates for your child and school.
Dear Families,
Testing is just around the corner! Teachers and students have been working hard to prepare for the tests. Please make sure to check out our website for some resources that you can use at home to help get your child prepared for testing. They are going to do great!
​We'd like to invite everyone to our Hunter's Green Elementary Showcase on Friday, May 17, from 5:00 – 8:00. We will be highlighting all the wonderful things that are happening at our school. There will be club presentations, tables showcasing each grade level, PTA, and special resources, along with Kinderchorus, chorus, and special music group performances. We will also have another Kindergarten Round-Up that evening at 5:00 for those families that have children that will begin Kindergarten in the fall. Our lunchroom staff will be preparing some scrumptious meals that can be purchased for a small fee. We'd also like invite any families that are currently enrolled at other schools that are interested in attending Hunter's Green, or new students to the area to this fabulous event.
​Spring break is March 18 – March 25. Students return on March 26. We hope everyone has a wonderful break.
Sincerely,
Gaye Holt, Principal
Panther Connection Volume 27 Issue 13
Panther Connection Volume 27 Issue 15