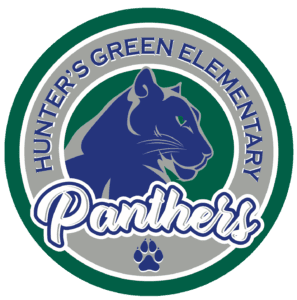 Panther Connection
Hunter's Green Elementary Newsletter
Volume 27, Issue 17
Important Dates:
5/6 – 5/10 – Teacher Appreciation Week
5/16 – Young Athletes Event
5/16 – Little Greek and Twistee Treat Spirit Night
5/17 – Kindergarten Roundup – 5:00pm
5/17 – HGE School Showcase – 6:00pm
5/20 – PAWS Awards Assembly
5/21 – Volunteer Luncheon – 11:00am
5/27 – No School
5/28 – Pre-K Graduation
5/29 – 5th Grade Banquet 11:30am (students only)
5/30 – Pep Rally
5/31 – 5th Grade Awards Ceremony 9:30am
5/31 – 5th Grade Clapout – 10:30am
5/31 – Early Dismissal – 11:45a
Click here for access to our new Google Calendar!  Sync up the important dates for your child and school.
Dear Families,
I'd like to thank everyone for your continued support. Our Spring Showcase will be held on Friday, May 17, from 6:00 – 8:00 PM, with Kindergarten Countdown from 5:00 – 6:00. The lunchroom will also be serving food from 5:00 – 6:00 for a small fee. Come see our amazing students and the wonderful things that happen at Hunter's Green Elementary.
I'd like to thank the PTA for all they've done at Hunter's Green Elementary. Emily Milam, our PTA President, the Executive Board members, and all the members of the PTA have done an outstanding job supporting our school this year. They organized the Inaugural Hunter's Green 5K Run and Music Fest that raised over $10,000, Those funds were used to purchase the much needed new printers for each classroom teacher. They have volunteered countless hours in the media center, working with students, fundraising, etc. They planned several family events that help promote a sense of community and inclusion within our school family. They have provided our teachers with supplements that directly impact our student's achievements. The list goes on and on and we are so grateful for their amazing work.
There are many activities these last weeks of school. Please see the calendar of all the events. The last day of school is May 31, with the fifth grade awards at 9:30, followed by the clap out at 10:30, and then dismissal at 11:45.
If there is anything we can do to help make your child successful, please let us know.
Mrs. Holt
Principal
Panther Connection Volume 27 Issue 16
Panther Connection Volume 27 Issue 18