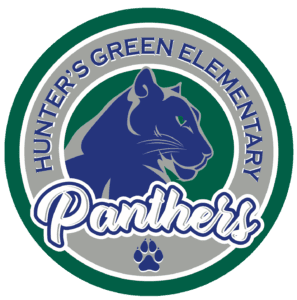 Panther Connection
Hunter's Green Elementary Newsletter
Volume 27, Issue 19
Dear Families,
I can't believe this is the last newsletter for the year! I'd like to thank Sarah Creter and PTA for creating this wonderful newsletter. I hope this form of communication has helped you keep in touch with activities in our school. Communication is a priority at Hunter's Green Elementary.
It has been such a wonderful year. Hunter's Green Elementary is a school family and you are an important part of it. We value your partnership with us, and hope you have enjoyed our family events throughout the year. When I see the smiles on the students' faces and hear their stories of success in the classroom, my heart is warmed. We want to thank everyone for your support, and look forward to it continuing in the upcoming year.
I want to thank all the fifth grade students for being such great students. I hope they have learned a lot and had fun at Hunter's Green Elementary. I want them to know the world is theirs to explore and continue to learn. The faculty and staff would like to wish them all the best!
Please save the date for August 9, from 1:00 – 4:00, for the 2019-2020 open house. This is a time for you to bring your child to meet their new teacher and learn about the expectations of the classroom. You will receive a letter the week prior to school starting, August 12, with detailed information about the open house and class placements.
We hope you will encourage your child to take adventures through reading this summer. Have a wonderful, fun, and restful summer.
Panther Connection Volume 27 Issue 18