Our mission is to create a partnership between parents and school staff to effectively implement programs and provide resources that will promote academic excellence.  Our goal is to create opportunities for family involvement, allowing all students to grow to their fullest potential.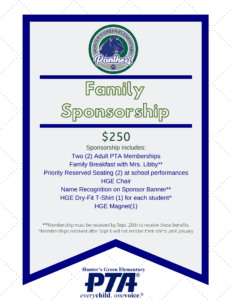 By joining the Hunter's Green PTA, you can help make our school a better place! Our PTA plays important roles in curriculum-based and after-school programs, staff support, and social events — all vital to our school's success. The PTA is a great place to connect with other parents, volunteer your time for a noble cause, and make positive changes at our school. In light of recent State and County budget cuts to education, our PTA's voice and fundraising is more important than ever, and your participation is critical.
We are partnered with Memberhub to create an online community for memberships, private online directory, share photos and files securely, volunteer sign up, school communication, and calendars! Be sure and set up your profile today!
To learn more about Memberhub click HERE
Family Sponsorship provides extra support to our school and PTA and comes with some great perks!  To purchase a Family Sponsorship, click the MemberHub link above.