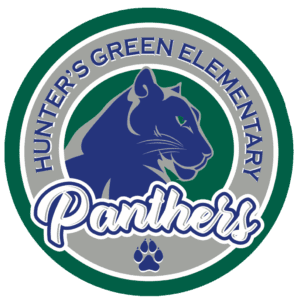 9202 Highland Oak Drive
Tampa, FL 33647
We are excited for the 2023 classic HGE experience, Kids Rule the School! Students can win the opportunity to Rule the School as their favorite teacher or even the Principal!
So, what actually happens when Kids Rule the School? Students have an opportunity to enter the drawing for a chance to win the role as their chosen faculty/staff member.  The student will then work to plan the day – with school appropriate activities, of course – and then Rule the School the second to last Friday of the school year.
Ticket sales begin Thursday, April 27th at Bingo Night and are on sale until 5pm on Friday, May 5th.  Winners will be drawn that evening and announced on the Morning Show on Tuesday, May 9th. The school-wide experience will take place on Friday, May 19th.
Should you have any questions, please contact [email protected].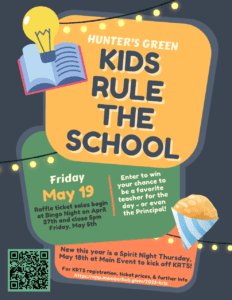 Join us on April 27th from 5:30-7:30 for Bingo Night!  This is a great opportunity to bond with your friends and family while supporting our school. With a chance to win amazing prizes and enjoy delicious snacks, this event is not to be missed. So bring your lucky charm and join us for an unforgettable evening of HGE FUN! We can't wait to see you there!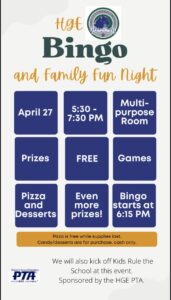 Dad's club will be help on Friday, April 28th at 6:45 am!